Calmwater Capital, a leading national direct real estate lender, has provided $7.6 million in senior debt to Nelson Brothers Professional Real Estate, LLC to acquire and upgrade a student housing complex near Washington State University. The 184-bed property, known as College Crest Apartments, is located at 1555 NE Merman Drive in Pullman, Washington.
"What Consumers Really Want Will Shock You – Hint: It's about them, not you!" is the provocative title of the session that Seattle real estate marketing expert Noelle Bortfeld, Chief Marketing Officer at Windermere Real Estate, will headline at Inman Connect at the San Francisco Hilton, August 7-11, the nation's largest real estate technology conference.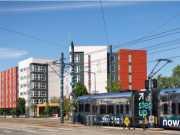 Mercy Housing Northwest (MHNW), a non-profit affordable housing provider, announces the grand opening of its newest property, Mercy Othello Plaza, on Saturday, July 8, 2017 at 11:00 AM. Special guests presiding over the ribbon cutting ceremony include Dep. Mayor Hyeok Kim, County Executive Dow Constantine, Wayne Lau of Rainier Valley Community Development Fund and Mona Lee of Othello Park Alliance. Together with Mercy Housing board and staff, they are joined by new residents of Mercy Othello Plaza, partners/funders and members of the Othello neighborhood
he City of Bellevue broke ground last week on the long-awaited Meydenbauer Bay Park, which will improve the connection between Bellevue's bustling downtown and its scenic Lake Washington waterfront.
Property tax statements for the first half of 2017 are in the mail, Clark County Treasurer Doug Lasher announced Monday. Property tax statements include property tax levy amounts, special assessments and certain fees. The Treasurer's Office sent 67,000 paper statements, 78,000 postcards to taxpayers whose mortgage companies pay their taxes, and 6,000 e-statements to people who registered to receive tax bills online